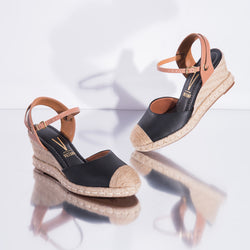 YDistributors
Vizzano Women's Ankle Strap Closed Toe Flatforms Flat Sandals
These women's fashion sneakers are a stylish and versatile addition to your footwear collection. Designed with both fashion and comfort in mind, these sneakers are the perfect blend of trendy aesthetics and everyday we arability.
Crafted with attention to detail, these sneakers often feature various materials, including leather, canvas, or synthetic fabrics, depending on the specific style. They are available in a wide range of colors and designs to suit various fashion preferences, from classic white sneakers for a clean and timeless look to vibrant patterns and bold hues for those who want to make a statement.
The silhouette of these fashion sneakers is typically low-top or mid-top, providing a balance between casual comfort and a trendy appearance. They often come with cushioned insoles and padded collars for enhanced comfort during long walks or all-day wear.
The outsoles are designed for traction and durability, ensuring stability and support whether you're strolling through the city, running errands, or pairing them with your favorite casual outfits. These sneakers are versatile enough to complement jeans, leggings, dresses, or skirts, making them a versatile choice for various occasions.
Whether you're headed to a casual outing, hitting the gym, or simply want to elevate your everyday style, these women's fashion sneakers are the perfect choice for those who value both fashion-forward looks and comfort.