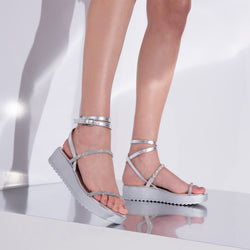 YDistributors
Vizzano Women's Fashion Summer Platform Sandals
Elevate your summer style with these fashionable platform sandals. These sandals are designed to be both trendy and comfortable, making them the perfect choice for warm-weather outings.
Featuring a platform sole, these sandals add height while providing a stable and supportive base for your feet. The design may include straps made from various materials such as leather, suede, or synthetic fabrics. These straps could be adorned with decorative elements like buckles, studs, or embellishments, adding to the sandals' overall aesthetic.
The platform sandals are carefully crafted to ensure a comfortable fit, allowing you to confidently stroll around town or attend outdoor events. Whether you're pairing them with casual shorts, a flowy summer dress, or cropped jeans, these sandals are sure to enhance your look and keep you on-trend throughout the season.