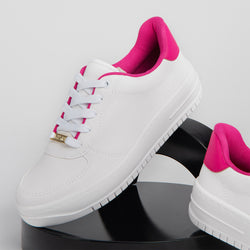 YDistributors
Vizzano Women's Fashion Comfort Pink & White Sneakers
Step up your style with these Fashion Comfort Pink & White Sneakers. These sneakers blend fashion and comfort seamlessly, offering a trendy footwear option that doesn't compromise on ease.
The sneakers feature a delightful pink and white color scheme, creating a vibrant and eye-catching look that's perfect for various outfits. The design combines modern aesthetics with a focus on comfort, making them suitable for both casual outings and light activities.
Crafted with attention to detail, these sneakers may boast cushioned insoles and padded collars for a soft and comfortable feel. The sturdy yet flexible outsoles provide support as you walk, ensuring a balanced and confident stride.
Whether you're strolling through the city streets or hanging out with friends, these Fashion Comfort Pink & White Sneakers effortlessly merge style and comfort for a footwear choice you'll love to wear.