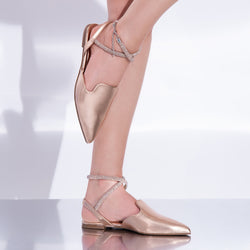 YDistributors
Vizzano Women's Metallic Cross Strap Slingback Flats
These girls' metallic cross strap slingback flats are a delightful combination of style and comfort, perfect for young fashion enthusiasts. These flats feature a design where thin metallic cross straps elegantly wrap around the foot, adding a touch of sophistication to any outfit.
The slingback style incorporates an adjustable strap at the back, ensuring a secure fit while allowing easy on-and-off. The metallic finish of the straps adds a trendy and eye-catching element, making these flats suitable for various occasions, from casual outings to more dressed-up events.
Crafted with both fashion and comfort in mind, these flats offer a balance between aesthetics and practicality, making them a must-have addition to any young girl's footwear collection. Whether it's a day at school, a family gathering, or a special occasion, these metallic cross strap slingback flats effortlessly combine style and functionality.