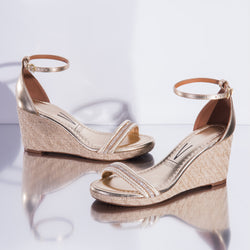 YDistributors
Vizzano Women's Metallic Leather Platform Wedge Sandals
Elevate your style with these stunning metallic leather platform wedge sandals. These sandals offer a captivating blend of fashion-forward design and comfortable wear, making them an ideal choice for both casual outings and more formal occasions.
Crafted from high-quality metallic leather, these sandals gleam with a sophisticated sheen that catches the light. The platform wedge heel adds height and elongates your silhouette, while the wedge design ensures stability and ease of walking.
The sandals feature a versatile and adjustable strap system, which may include an ankle strap and a buckle closure. This allows you to achieve the perfect fit and secure feel as you step out in confidence.
Whether you're looking to add a touch of glamour to your summer ensemble or seeking an elegant statement piece, these metallic leather platform wedge sandals are sure to turn heads and become a staple in your footwear collection.