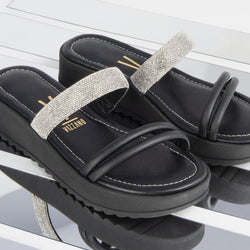 YDistributors
Vizzano Women's Rhinestone Decor Slide Sandals
Step into glamour and comfort with these women's rhinestone-decor slide sandals. These sandals are designed to combine style and ease for your everyday footwear needs, adding a touch of sparkle to your outfits.
Featuring rhinestone embellishments, these slide sandals elevate your casual look with a hint of sophistication. The rhinestones are carefully placed on the straps, creating a dazzling effect that catches the light and draws attention.
The slide design ensures effortless wear, allowing you to easily slip them on and off. The sandals are crafted with comfort in mind, with a cushioned footbed that provides support throughout the day.
Perfect for sunny days or special occasions, these rhinestone decor slide sandals offer a blend of fashion and convenience, making them a must-have addition to your footwear collection.