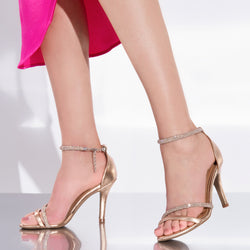 YDistributors
Vizzano Women's Ankle Strap High Heel
Enhance your elegant ensemble with these stunning women's ankle strap high heel shoes. Designed to add a touch of sophistication to any outfit, these heels are a versatile choice for special occasions or dressy events.
Crafted with attention to detail, these heels feature a chic ankle strap that not only adds a stylish element but also provides extra support and stability. The sleek high heel design elongates your legs, creating a flattering silhouette.
Available in a range of colors and materials, these ankle strap high heels offer options to suit different outfits and personal preferences. Whether you're attending a formal event or dressing up for a night out, these heels are sure to become a staple in your wardrobe. The combination of elegance and comfort makes them an ideal choice for making a statement with every step you take.