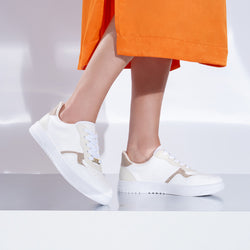 YDistributors
Vizzano Women's Comfort White Sneakers
Introducing our Women's Comfort White Sneakers – a perfect blend of style, functionality, and everyday comfort. These sneakers are meticulously designed to elevate your footwear game while ensuring your feet feel pampered with every step.
Crafted with a keen focus on both fashion and comfort, these white sneakers effortlessly complement a wide range of outfits. Whether you're strolling through the city streets, meeting up with friends, or running errands, these sneakers are your reliable companions for all-day wear.
The sleek white exterior is versatile and timeless, making it easy to pair with jeans, leggings, dresses, or even casual skirts. The minimalist design is elevated by subtle yet stylish accents, ensuring these sneakers stand out while maintaining a sense of understated elegance.
What truly sets our Comfort White Sneakers apart is their exceptional comfort features. The cushioned insole embraces your feet with a gentle embrace, providing a plush feel that minimizes fatigue, even during extended wear. Say goodbye to discomfort and hello to a supportive experience that keeps you going throughout your day.