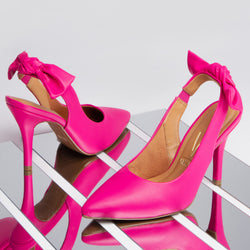 YDistributors
Vizzano Women's Summer Pointed Toe High Heels Low Top Bowknot Decor Lace Up Casual Shoes
Embrace a touch of elegance and style with these women's summer pointed toe high heels. These versatile and chic shoes are designed to add a hint of sophistication to your casual ensemble. The shoes feature a low top design, providing a balance between comfort and fashion-forward appeal.
The pointed toe adds a classic touch, while the high heel elevates your posture and gives you a graceful stride. The shoes are adorned with a charming bowknot decoration, adding a feminine accent that complements various outfits.
Crafted for both aesthetics and comfort, these shoes are designed with a lace-up closure, allowing you to adjust the fit according to your preference. Whether you're strolling around the city, meeting up with friends, or enjoying a leisurely day out, these lace-up casual shoes offer a blend of style and ease for your summer adventures.